Migraine Free Nacho Cheese
by Dr. Dan J. Sallee, DC
(Overland Park, KS, United States)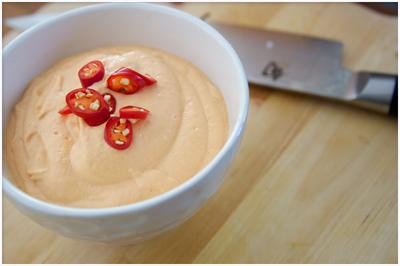 Garnish with Red Pepper
Ingredients
1/4 cup raw cashews
1 tablespoon sesame Tahini
1 4 ounce jar of pimentos *or peppers of your choice
1/4 cup nutritional yeast
1 1/2 teaspoon salt
1/2 teaspoon onion powder
*can be substituted with another spice (onion can be a migraine trigger for some)
1/4 teaspoon garlic powder
1 cups water
1 cup soy milk
3 tablespoons cornstarch
1 tablespoon lemon juice

Using the pulse button, finely grind the cashews in a food processor or blender (do not allow the cashews to turn into a paste), add in the sesame Tahini. Add the nutritional yeast, onion powder, salt and garlic powder. Pulse 3 more times to blend in the spices.

Combine the water, soy milk, and cornstarch in a heavy medium saucepan. Bring to a simmer over high heat. Decrease the heat to medium-low. Cover and simmer for 10 minutes, stirring occasionally, or until the cornstarch is dissolved. With the food processor or blender running, gradually pour the milk mixture into the cashew mixture. Blend for 2 minutes, or until the mixture is very smooth and creamy. Blend in the lemon juice.