Get this website as an eBook!
A headache ebook? Now there's a way to read the articles here at Relieve-Migraine-Headache.com while you're offline - with this new migraine and headache eBook! The contents of this website, as of 9 August 2005, have been remade into an ebook that you can browse offline. It's over 340 pages, packed with tips designed to fight your headaches, migraine attacks, cluster headaches, and more. Here's what you'll get:
Relieve-Migraine-Headache.com eBook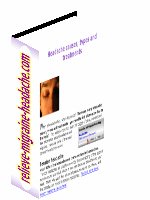 All the articles on the site (as of August 2005), including:
What are eye migraines?
Want the BEST headache home remedies?
How to handle the dreaded barometric pressure headache!
Should you avoid food with tyramine?
Think you might have a symptom of migraines?
Identifying and avoiding your migraine trigger
Do you have stiff neck headaches?
...and many, many more!

Four bonus articles that have never appeared on this website:
Rebound headache - how to escape
Paralysis and hemiplegic migraine
After exercise headache - more serious than you think?
Does my child have migraine? 5 things to consider...

All the tips and news from the Migraine and Headache News Blog (again, as of 9 Aug 2005)
That's dozens of entries such as...
Discrimination at work
More on melotonin
If not Cox-2, then what?
Altitude tip
The Healthiest Diet in the World? You decide!
PFO and Migraine

The exclusive Relieve-Migraine-Headache.com headache diary
Including a page on tips for using your new diary!
---
This migraine and headache ebook full of tips and research is available for instant download for only $10 US funds. It can easily be printed out or simply read offline on your home computer.

Also, 20% of your purchase will go to medical aid and education being done in the war-torn country of Sierra Leone, West Africa. Visit our resources page to learn about the valuable work being done by International DOVE. Thanks for your help!

To get access to this ebook, visit PayPal using the link below and follow the instructions.

Important: You will need Adobe Reader 5 or above to read this ebook. Adobe Reader is available online for free.

Relieve-Migraine-Headache.com ebook (over 340 pages!)
. . . US$10 through PayPal