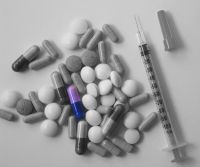 Medication migraine answers
The first thing you need to know about medication migraine strategies is that there are basically two approaches. First, the medication you take when you start getting migraine symptoms. This would include painkillers, as well as medication made specifically to target migraine. This type of medication is usually called "abortive".

The next category is preventative medication. This is the type you may take once or twice a day, all the time. Preventative medication often takes three months or so to start working, but after that you may see a definite drop in the number of headaches you get, and you may find the ones you get aren't as bad.


What's this pill for?
When it comes to medication solutions, you may be surprised to know that many meds weren't even made for migraine in the first place. Your doctor may recommend an anti-convulsant, often given to seizure patients. Depakote (divalproex sodium) is an example. You may also try an anti-depressant - yes, even if you aren't depressed! Or any variety of general painkillers that you may also take for arthritis or a tension headache.

There are also specific medication migraine solutions, such as the popular triptans, which include Imitrex (Sumatriptan) and Maxalt (rizatriptan).

How do I take it?
Medication for migraine comes in many different forms. When it comes to abortive medication, the idea is usually to get the medicine into your body as quickly as possible. You may take an ordinary pill, or take something under your tongue (sublingual), or get an injection. In the emergency ward, oxygen may be supplied through a mask. New technology will allow a needle-free way to get medication for migraine through the skin, using systems such as DosePro.


---
Read more about specific medications using the links in the box above. If you want to stay up to date on the latest, check out the Headache and Migraine News Blog, or sign up for the free newsletter, HeadWay.

Remember, there are a lot of options when it comes to migraine, and many of them don't involve pills at all! Explore the site to find more solutions that can work for you.