Migraine nausea
For some people, the worst thing about migraine is not pain - it's migraine nausea.
The most debilitating, incapacitating symptom can be the nausea. Some don't get it at all, but those who do may find themselves feeling almost like they can't move.
Nausea can strike in different ways.
About 80% of migraineurs get nauseous, but only 30% actually throw up.
You may feel sick to your stomach, you may throw up once, or many times. In rare occasions, it may get so bad you become dehydrated.
And nausea isn't just a migraine symptom - it can occur in
cluster headaches
, and on rare occasions with a really bad
tension headache
. Children with migraine usually deal with migraine nausea, often nausea with no headache at all. For children the symptoms can arrive quite suddenly.
Treating Migraine Nausea
1. General migraine treatment
If you're not dealing with migraine as a disease in general, this may be the best place to start. The popular triptan drugs (such as Maxalt, Frova, Imitrex, etc) are known to help with migraine nausea. A study in 1997 (by Palevitch, D. G. Earon, and R. Carasso) showed that the herb feverfew may also help with nausea. Note that sometimes over the counter painkillers may actually cause nausea (actually, some migraine drugs can as well, in some people). Check the label and try a new approach if you find your nausea is still pretty intense.

For children, there are drugs that can help with pain and nausea together that are often prescribed for migraine, such as Reglan (metoclopramide).

(Note: The book Headache and your Child by Seymour Diamond, MD, has many more great tips for dealing with children's migraine nausea.)
2. Anti-nausea drugs
Antinausea or antiemetic drugs are another line of attack. Common drugs used for migraine patients include Tigan (trimethobenzamide), Compazine (prochlorperazine), and Phenergan (promethazine). Phenergan is often prescribed for children with migraine as well. Gravol (dimenhydrinate)is also common. These types of drugs sometimes cause drowsiness, which can be a blessing during an attack. However, if you need to stay more alert ask your doctor for Reglan (metoclopramide) or another less-drowsy option. If taken with a migraine drug, Reglan may help the other medication absorb more quickly.

Of course, if you can't keep anything down, you won't be able to swallow these pills. A suppository is another option. Suppositories are usually easy to take and they take effect very quickly.

Caution: Be very careful when taking more than one medication that can make you drowsy. For example, a narcotic painkiller and Gravol for nausea - full doses of both could actually cause you to stop breathing. Talk to your doctor about what doses are safe.
3. Self-help measures
The Mayo Clinic offers these common sense suggestions - take it easy, stay hydrated (try sips of water, weak tea, clear soft drinks or broth. Don't drink too much at once), avoid food odors, and eat bland foods.

When you know a migraine attack is coming on, try to eat a healthy snack right away, while you can still stomach the food.  This alone may keep the nausea away (works well for me!).  One reader, Gillian from the UK, suggested keeping something by the bed in case you wake up with migraine.  You may also want to vary your migraine treatment.  I found that when I stopped using an ice pack, much of my migraine nausea went away (some people find an ice pack helps!).
Ginger for migraine nausea
When this article was published in HeadWay, my readers pointed out a glaring omission - ginger. In fact, in January 2006 a new study came out, reported in the American Journal of Obstetrics and Gynecology. They were looking at nausea and vomiting after surgery, and found that a dosage of at least 1 gram of ginger was a big help (there's still some concern because ginger can increase risk of bleeding around surgery).

There have been other successful trials - motion sickness, nausea during pregnancy - ginger is the natural treatment of choice. Sure, it seems that ginger only works with 2/3 of people, and at times it causes some other abdominal discomfort, but if it can drastically cut down on your migraine nausea it's worth it.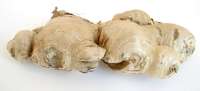 There are different ways to take ginger.
You can simply peel and slice a piece of ginger root.
Queasy Pops Ginger
and other special nausea "candy" is very handy. Strong ginger tea is great.
Alvita has this Ginger Root (Caffeine Free) tea
.
Ginger ale is a common remedy, but make sure it really has ginger in it (not just flavouring). Eleanor from the USA has tried candied ginger (often recommended) and even Japanese pickled ginger (now we're getting gourmet)! While we're at it, why not gingerbread? I'm not kidding, if you can nibble on it, give it a try.
For more clinical precision, try
Nature's Way Ginger Root
. If you take 2 tablets, that gets you over the 1 gram amount and hopefully will get you over your nausea too.
Many people recommend the simple aroma of ginger too.
Dr. James L. Geiger
recommends ginger aromatherapy. As always, use a 100% pure essential oil, such as
this one sold by Aura Cacia
. See
Dr. Geiger's article on ginger oils and nausea
.
Quick Facts: Many nausea meds work on the nervous system, causing drowsiness. Since ginger works directly with the digestive system, it doesn't. It's believed to neutralize stomach acid, stimulate appetite, tone digestive muscles and even help with inflammation and dizziness.
Other ideas?
A little sugar sometimes helps - a sports drink, for example. Patricia Zehna from the USA said that Aloe Vera juice is great to sip on. Nature's Way has very good Aloe Vera juice (I've found it cheapest at amazon.com, but check your local drugstore too). Fitting with the Mayo Clinic's suggestion to try bland foods, try some toast with jam or brown sugar and cinnamon.


---
This information on migraine nausea is taken from an article first published in the free ezine, HeadaWay, in January 2006.  If you'd like to be the first to read new information like this, sign up below for a free monthly subscription!


---
References: Mayo Clinic on Migraine Headache, June 6 2005; Mayo Clinic on Nausea and Vomiting Apil 29 2005; Medline Plus Ginger prevents postop nausea and vomiting, January 16 2006; Headache and your Child (lots on migraine nausea) by Seymour Diamond, MD, 15 July 2001; wholehealthmedmd.com ginger; PubMed study Ginger for nausea and vomiting in pregnancy: randomized, double-masked, placebo-controlled trial, April 2001; What Your Doctor May NOT Tell You About Migraines by Drs. Mauskop and Fox, August 1 2001; Aromatherapy: New Tool for Fighting Post-Surgery Nausea & Vomiting, 29 January 2006