Injecting Pointless DHE 1 & 1/2 Inches Deep Into My Thigh
by Robert John Donahue
(Inver Grove Heights, MN, USA)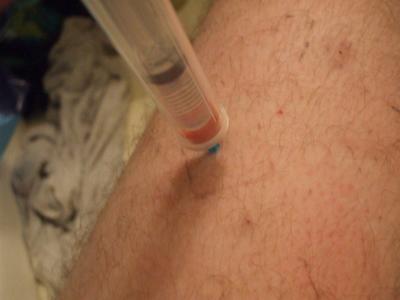 This was during my Hades days with a doctor in Minneapolis, MN, USA, whose philosophy was not to treat disabling migraine pain at all. I was only allowed the sting of the self-inflicted DHE injections thrice-daily for three weeks. This treated the pain only by briefly distracting my attention to the pain in my thigh muscle after each shot.

This doctor was fond of what he called a German philosophy - just go home and suffer. I was losing my job due to the constant pain, and he said I needed knowledge, that's the answer! He blamed the migraines on the depression, rather than blaming the depression on the migraines and on his refusal to effectively treat my chronic pain as required by the Board of Medical Practice.

Doctors like this cost me my job. The one doctor that helped me still had no sympathy, treating my honest questions as sarcasm.