San Francisco Migraines Clinic
We asked our visitors to recommend a San Francisco migraines clinic. And they came through, recommending this clinic...
Top Recommendation for the San Francisco Area
Kaiser Permanente San Francisco Medical Center Chronic Pain Management Center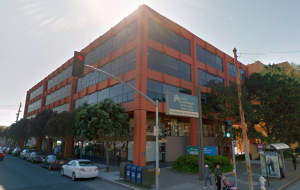 Photo courtesy of Google Maps
Their website describes the clinic this way:
Doctors & allied health professionals in Chronic Pain Management.

The Chronic Pain Management Program offers services to patients [Kaiser members] with physical pain for whom medical and diagnostic interventions have been unsuccessful. Our team includes physicians, registered nurses, health psychologists, physical therapists, and acupuncturists, all with special training in chronic pain management.
The clinic is a part of
Kaiser Permanente San Francisco
. The group has been providing health care to the San Francisco area since 1954. The clinic has a program called the
Chronic Headache Program
which covers not only migraine but many chronic headache conditions.
Our visitors mentioned that they especially appreciate Dr. Christopher Gilbert.
Dr. Gilbert specializes in pain management. He has a PhD in Psychology from Michigan State University, and BCIA (Biofeedback Certification International Alliance) certification in Biofeedback. He has taken a special interest in biofeedback and works together with a group of specialists with a wide variety of disciplines to treat pain, including migraine pain.
I wrote Dr. Gilbert to let him know that we would be recommending the San Francisco Medical Center Chronic Pain Management Center. He emphasized that his treatment takes time (but based on the recommendations it's helpful!). This is what he wrote:
I'm a psychologist, chronic pain specialist, and work with migraines in conjunction with the medical staff. They handle the medication, if needed, and I handle the trigger analysis, relaxation, biofeedback, migraine education, behavior and lifestyle change - everything but brain transplants, which many people request. I run small groups mostly for people with chronic daily headaches. Those looking for a quick fix will first try botox, pill after pill, acupuncture, occipital nerve stimulation, even surgery before considering my slower self-regulation approach.
Contact Information
Here's some more information about this San Francisco migraines recommended Kaiser Permanente clinic:
Address:
4141 Geary Blvd.
Suite 212
San Francisco, CA
USA
94118
map
Phone
(Appointments, cancellations, advice and messages)
:
415-833-4414
Website
:
Chronic Pain Management Center
Dr. Gilbert's page:
Christopher Gilbert, PhD
Tienen traducción disponible si usted lo solicita antes de su cita. Hay también información de salud en español en el sitio web del San Francisco Medical Center.
Thanks again to all our visitors for their san francisco migraines recommendation. Visit the
Headache and Migraine News Blog
for more of the latest news and to share your own comments and ideas.