Diary Headache Migraine
You need to track down your symptoms and stamp out your headaches. It's time to try to diary headache migraine solution - a diary that will help you track headaches, migraine attacks, and other symptoms that may be related.

Keeping a headache diary faithfully over the years can make all the difference. The problem is that a headache or migraine diary can either be hopelessly complicated and detailed (and who can keep up with that?) or else they don't include all the information that you really need.

This diary attempts to bridge the gap by being quick and simple to fill out, easy to see at a glance, and with enough information to be able to help you see patterns in your headaches. You canfill out as many details as you want, or make an entry in 5 seconds or less.
Diary headache migraine - how it works
You can download the diary below, but first let's take a look at it and see how it works.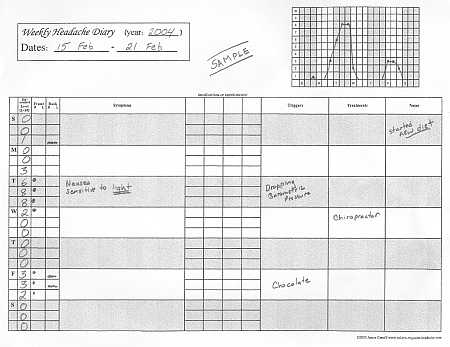 From left to right: First, the
day of the week
. Then comes the
discomfort level
(
from 0-10, 10 being the worst
). Notice that this isn't just pain, but general discomfort. This is important, because you can get migraine without pain (
silent migraine
), and you can also get related symptoms that your doctor will recognize.
The next two columns represent the front and back of your head. Just scribble in where you feel the pain. Easy! If you have discomfort in other parts of your body, write it in the next section.
Next, fill in any
symptoms
you notice. The next four columns are for regular painkillers or preventative medicine you take. Also include natural supplements. If you run out of space, just include a note somewhere about your regular medications, and just use these boxes for painkillers.
Next,
triggers
, even if you're just guessing. What do you think may have precipitated this migraine attack?
If it applies, this column can be used to track menstrual cycles. This is important because of the role
hormones
play in migraine. If it's easier, you can also use the fourth small column for this. It's easy and flexible, which is what makes the diary headache migraine solution usable for
you
.
Then comes
treatments
, such as
chiropractic treatment
or self massage. The final box is for anything else you want to comment on.
At the top left you can chart your discomfort level if you like. This makes it easy to see at a glance how good or bad you've felt in any given week.
File your diaries for future reference. Use the diary headache migraine solution, and bring completed diaries to the doctor to help her understand.
Diary headache migraine - download now!
You will need a pdf reader such as the free Adobe Reader or Foxit Reader installed on your computer in order to open the diary.

If you want to open the file in your browser window, you can just click on the link. However if you want to download the file to view later, then right click on the link and choose "Save Target As" or "Save File As." Then select where you want to save the file. Once you've saved the file, locate where you saved it, and double click to open. In order to print, open the downloaded file, and select the "Print" option from the menu.


Diary headache migraine download