Migraine, headache, and art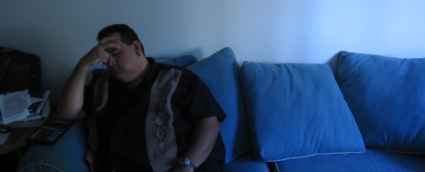 migraine time - migraine art courtesy of silas216
Did you know that the three words - migraine, headache and art - really do go together*?
It's natural, when you think about it. When you've gone through an intense experience, such as a migraine attack or cluster headache, or if you suffer from chronic headaches, it's something you want to express to others. We want people to understand.
Migraine (which, as you know, is not a headache but a disease) and various types of headaches have often been misunderstood through the years. Some of the earliest "art" was done by doctors and neurologists trying to understand what was happening in the body.
Upon seeing an art teacher's portrayals of her migraine attacks, the late
David Robinson
began to develop the migraine art concept in the 1970s (
more about Robinson, migraine, headache and art
). This turned into a wider movement, and migraine, headache and art competitions were begun in various parts of the world.
Today, many of these competitions continue.
But there's an even bigger revolution
- people sharing their photos, paintings and drawings on their own websites, in Facebook, Flickr, and in blogs. This isn't just self-obsession - it's a way to help the rest of the world understand what we're dealing with. It can even help researchers learn more about headaches and migraine, and lead to new understanding and better treatments.
---
Read more here about the history of migraine art, and see more examples.
---
Have Your own Migraine or Headache Art to Share?
You want the world to understand? Share your own photo, drawing or painting that tells us what your headaches, migraine or clusters are really like!
What Other Visitors Have Said
Click below to see contributions from other visitors to this page...

---


* Note - this page talks about art based on headaches and migraine. Remember, however, that migraine headaches are only one symptom of migraine. Many people with migraine don't get any headaches at all! Migraine headache is only one possible symptom, not the disease itself. Read more about migraine headache and other symptoms of migraine.